Water Damage Madison
When your home is affected by a pipe burst or a leaking roof, you can be sure that the water damage Madison technicians at 911 Restoration of Central New York will be at your home within 45 minutes, ready to start pumping water from the premises.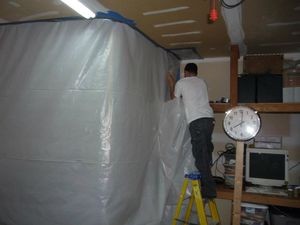 We know how important it is to be available to our customers around the clock, so we keep our water damage Madison office open 24/7/365 in order to best assist you.
It is important that we implement same day services for all water emergencies, that way both you and your home stay safe.
Our water damage Madison leak cleanup unit is trained thoroughly clear your house of all moisture from the following causes of water damage:
Pipe bursts and other plumbing issues

Flooded basements

Crawlspace condensation

Sink, toilet and bathtub overflows

Clogged gutters and downspouts

Roof and ceiling leaks

Storm and other water-based disaster damage

Sewage backups

Fire sprinkler malfunction

Washing machine leaks

Ruptured hoses

Leaking ice machines and other refrigerator issues
Call our water damage Madison flood removal techs and we will conduct a free home inspection as soon as we arrive on the scene.
Test Your Shower Pan To Avoid Water Damage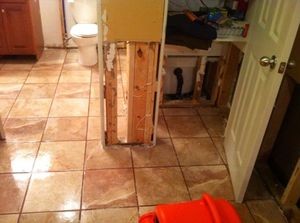 One of the main ways that a home becomes flooded is due to shower pan leaks and overflows. The water damage Madison plumbing experts want homeowners to be aware of this risk, and offer advice on how to check your shower pan to make sure that it is working correctly.
Pressing on your tile and picking at the grout to identify potential shower leaks is a good way to start, but you really need to implement the shower pan test to make sure there is really no leakage.
You do this by covering the shower strainer and adding water to the tub or shower check the integrity of the pan. It's best to fill the shower to approximately 1 to 1 1/2 inches below the threshold.
Let the water sit in the shower pan over night, so you can give it ample time for even small cracks to become exposed.
If your shower is upstairs, check the ceiling below every once in a while after the pan has been filled. If you begin to see water stains then you know moisture is seeping out. Otherwise, check around the base of the shower for escaped water, or wetness in the nearby walls.
Call the water damage Madison leak repair workers today and we will make sure IICRC certified pros ensure that your home is in optimal condition
Our Flood Restoration Crews Will Always Be There For You
Customer service is the most important thing to us, and we want to make sure your well-being is in tact throughout the entire process.
Making things easier for you is our main priority, so we want you to rely on us to do everything for you, and we mean everything.
Our water damage Madison flood cleanup specialists will file your insurance claim for you and do everything necessary to get you the most coverage possible.
So, call us as soon as you notice a leak and our water damage Madison flood mitigation pros will get you the affordable water damage restoration you deserve.