Water Damage Central New York: Syracuse Flash Flood Watch!
Just a few weeks ago a flash flood watch was issued for Syracuse and the rest of Central New York.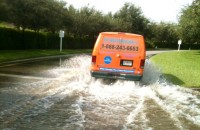 The watch was primarily issued because there was a series of consecutive rain storms in the area. Each storm individually didn't necessarily pose a serious threat on its own, but cumulatively they spelled trouble for property owners throughout the area, especially in isolated spots that were expecting another three to four inches to fall on already wet ground. This much rain can cause serious damage with roof leaks and flooded basements, and problems like these require a professional water damage restoration company to take care of things.
When is a Flash Flood Watch Issued?
A flash flood watch is an official warning that is issued by the National Weather Service when the conditions for flash floods are favorable. Often this means that the ground is already wet from previous rain, as in the case of the Central New York storms. Flash flood warnings are even more serious and mean that flooding is already happening for very imminent. Both should be taken seriously by local residents in order to avoid the need for water damage restoration services as much as possible.
What Can You Do to Prepare?
There is quite a bit that you can do to prepare when a flash flood watch or flash flood warning is issued. Keeping sand bags on hand when you live in a flood prone area is a great idea because you can use them to create an effective barrier along vulnerable parts of your property, especially where the land slopes downwards toward your foundation. If water does make it inside it tends to move to the lowest point of your home – the basement. That's why it is absolutely essential to have a quality sump pump on hand. The sump pump will automatically be activated when it senses the water level rise and will begin pumping water out of your basement. Unfortunately power is often lost during severe storms, so it's a good idea to have a backup, battery operated sump pump on hand just in case.
Get Professional Help!
While there are preventative actions that you can take, at the end of the day the best thing to do if you experience flooding in your property is to call a certified water damage professional. Floods can jeopardize the health of all inhabitants in the building by inviting bacteria and mold growth. Don't risk your well-being and try to clean up significant standing water on your own. A good water repair company will arrive on the scene quickly with the right tools and safety equipment to get your property back on its feet.
Remember, take all official flood watches seriously and do what you can safely to guard your property from damage. Be sure to call for professional assistance if things get out of hand, and your home or business will be back in great shape before you know it!