Dealing With Power Outages During A Nor'easter
Home and business owners in Central New York need to stay prepared for the strong wind and wet weather brought about by the nor'easter/bomb cyclone hitting New England this week.
The nor'easter is predicted to cause over a foot of snow in some areas, with it falling as much as two to three inches per hour. As intense as this sounds, the storm is looking like it is going further east than previously expected, which means the amount of snowfall may decrease.
Winds may end up raging up to 60 mph., and with gusts of this magnitude property owners may experience exceptional wind damage. In order to stay protected from wind damage you should take the necessary precautions.
This storm brings heavy, wet snow and powerful wind gusts to the region, both elements that have the power to cause power outages throughout New York. By knocking over trees and power lines, property owners could go days without power.
If you are one of those who have experienced loss of power due to the nor'easter, there are some steps you can take to stay safe during this time.
Staying Safe During A Power Outage
The nor'easter may have caused you to lose power. Although these conditions are out of your hands, there are steps you can take to stay safe during this time.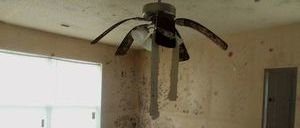 Make sure you have flashlights with new batteries handy. To be best prepared, you should have a flashlight for every person in the household. Having extra batteries is also crucial, since it is unpredictable how long you will be without power.
Have a battery-operated radio available for immediate use. Put the radio in an easy accessible place in your home, since this may be your only access to the media after your other electronics lose power and are unable to be charged.
Since your cellphone may die after a while, keep a landline available. Write down any important phone numbers you may need and keep them by the phone.
You also need to keep in mind your refrigerator during a power outage. Unfortunately, food only keeps for several hours in the fridge, but should stay in tact for a couple days in the freezer. Eat perishable food items first in order to reduce the amount of waste.
We are not used to life without power, especially during a heavy rain storm like a nor'easter, but try to stay calm and keep indoors. Just remember, the storm will pass.
Know Who To Call For Help During A Nor'easter
Along with power outages, the nor'easter can cause wind damage and even flooding in your property. It may prove difficult to get help during such an intense storm, but the professionals at 911 Restoration of Central New York want property owners to know that they can reach out to their staff literally any time.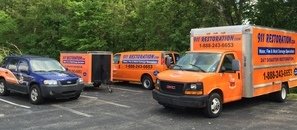 Their repair workers guarantee that they will arrive at your home within 45 minutes of receiving your call, even with a rain storm raging outside.
It is important that you feel like you have a lifeline during a nor'easter, especially if you are without power, and the storm damage technicians at 911 Restoration of Central New York want to be there for you when you need disaster restoration services.
If you find yourself dealing with unusually intense rain damage, you can also contact The Red Cross and FEMA for assistance.