Storm Damage Central New York
When you need professionals to repair the flood or leak issues in your home caused by a blizzard, you can depend on the storm damage team at 911 Restoration of Central New York to get your property fixed up in no time.
Once our service agents receive your call, we will dispatch our staff to your home or business, making sure we arrive within 45 minutes, no matter how intense the storm outside may be.
You can trust that when you hire our pros the job will get done correctly the first time around, ensuring that you won't need to find other repair workers later on down the line. Our professionals work with IICRC certified technicians and use top-of-the-line equipment to restore your home, such as:
Sump pumps
Wet vacuums
Vapor barriers
Air movers
Air purifiers
Eco-friendly cleaning agents
Our team wants to be the company you trust to assist you with any issues you may be experiencing during a blizzard, including snow damage, wind damage, flood damage and any other emergency home repair. We are available 24/7/365, so call our storm damage Central New York crew anytime and we will begin the flood restoration process with a free home inspection.
Wind And Wet Snow May Cause Power Outages
Whenever a nor'easter is expected to hit an area, home and business owners need to be aware that they may experience power outages during the snowstorm.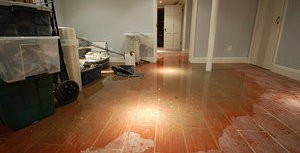 These blizzards create wet snow that can become extremely heavy when it is piled up on a surface or an object.
If this snow puts enough weight on a tree branch, then it can break off and fall into nearby power lines. This can cause home and business owners nearby to lose power.
The snow actually even has the ability to down power lines themselves if the wet snow puts enough weight on it. Nor'easters also have powerful winds that can knock over power lines and trees, also contributing to blackouts.
If you are experiencing a blizzard and suddenly you lose power, the best thing to do is stay inside and wait out the snowstorm. If you have any questions and need help during this time you can call the storm damage Central New York staff members and we will answer any questions you have regarding the snowstorm.
We Care For The Homeowner During Storm Damage Restoration
As hard as we will work to get your home repaired quickly, our storm damage Central New York experts will work just as hard to get you feeling better about the property damage that the blizzard has created.
We know it can be overwhelming to know that you have to coordinate an emergency flood restoration job, but when you call us you can rest assured that we will handle everything from that moment on.
Not only will we get your property repaired quickly, but we will also help you figure out your finances. Our professionals work with all insurance companies, and will even file the claim for you if you need us to.
Even if your insurance does not cover the storm damage, you can breathe a sigh of relief knowing that our agents consistently offer affordable prices for all of our flood cleanup services. Call our storm damage unit at 911 Restoration of Central New York the moment you discover any water damage in your living space and we will be there to get your home back in order quickly.