Water Damage Liverpool
For residents of Liverpool dealing a water damage incident can be a serious struggle, but fortunately Patrick LaPage with 911 Restoration Central New York and his specialized crews are ever-present and always ready for any challenge day or night.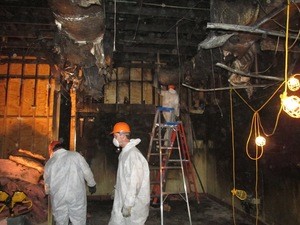 Being ready for anything means that Patrick and his teams are prepared and available 24/7/365 with all the mobilized equipment they will need to get your home or business back on track in no time.
"We want to get to the site of your dilemma as quickly as possible and this is why we position our crews around the area so that we can be anywhere within 45 minutes of your call," Patrick explains.
A quick response time like the kind that Patrick and his teams provide means all the difference when your home or business is flooded with water.
Quick action can also prevent some additional issues that a water damage incident can create like mold growth and fungus blooms.
If your property is being inundated with the chaos of a water damage Liverpool incident, then contact the best there is with Patrick and the master extractors at 911 Restoration Central New York today!
Prepared For Any Extreme Water Damage Situation
Patrick and the teams of IICRC certified specialists that he exclusively employs are always ready to take on any variety of water damage extreme that springs up, at all times of day and night, no matter how large or small the situation.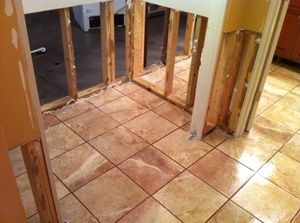 "We know that the Liverpool area can be affected by water damage from anything including severe, storms, extreme winter weather, or even a tornado, hurricane, or the rare earthquake," Patrick explains.
"This is why our crews of professionals are knowledgeable in all aspects of disaster restoration and prevention," Says Patrick.

Knowing the trade is one thing, but being able to mobilize knowledgeable professionals effectively for any emergency is what makes Patrick's branch of 911 Restoration stand out among the competition.
"No matter what the crisis, we can be there to save the day." Patrick says.
And with countless sated customers from all of the quality work he has done for people in the Liverpool area and beyond, you definitely want to have Patrick's number at hand when disaster strikes.
The Extra Mile Smile After Water Damage
The experts with 911 Restoration Central New York and Patrick himself are always positive and upbeat, even when disaster strikes.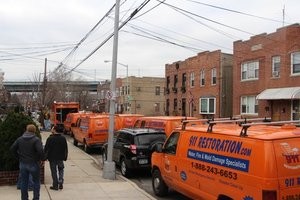 "We recognize how stressful a water damage scenario can be for homeowners and this is why we always bring a smile to every situation we encounter," Patrick explains.
"A smile and positive reassurance are just as important as the water extraction process when it comes to giving the customer peace of mind."
To Patrick, going the extra mile with a smile also includes filling out and filing the insurance paperwork needed for every water damage Liverpool restoration project that he and his teams endeavor.
Taking care of customers during their time of need means more to Patrick than just doing the restoration work. It also involves providing the client with any answers they need during the process, or finding them an affordable price if the insurance company can't cover the damages, and even locating a place for families to stay if an evacuation is necessary.
In short, there is no kind of water damage disaster that Patrick's crews can't handle, and no customer that can't be soothed with his reassuring knowledge, skills and positive attitude.
If your property is currently in a water damage situation and it requires the expert training and quality assurance of the best there is, then contact Patrick and the pros with 911 Restoration Central New York today!