Water Damage Cicero
At 911 Restoration Central New York, we have water damage restoration units that have the training to return your home back to its proper condition after floods have affected your house.
Cicero water damage professionals have over 35 years of experience, making them the most qualified cleanup crews for your home. Water can be a very destructive element, because it can eat into your home's constructional materials and cause mold growth.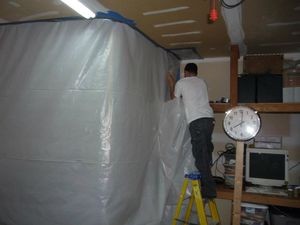 Our Cicero water removal experts explain that most water and mold problems can be prevented by fortifying your home against water damage by doing the following:
Clean your gutters free from debris
Aim downspouts away from home
Ensure landscaping is not sloping into the house
Check plumbing for leaks and cracks
Inspect pipes for rust
Examine roof for missing, cracked or curling shingles
By following these tips, you can minimize your risk of experiencing harmful water damage in your home. However, if you do need the help of our IICRC certified Cicero team, we will perform immediate water damage restoration service to eradicate any water damage and black mold spores.
Find Out if Water Damage Causes Mold

Water damage can lead to a mold infestation, which it is vital to have water damage restoration services from our Cicero water damage team quickly after water has flooded the area.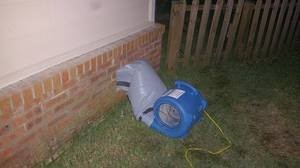 Water damage and mold go hand in hand, so needless to say our Cicero water removal experts are masters at performing the most comprehensive drying and clean up procedures.
If water removal is not initiated in a timely manner our flood removal techs, then mold spores have a better chance of growing.
When the organic and semi-organic components of your home get saturated with water, airborne spores can land on them and begin breeding in no time.
The licensed, bonded and insured water removal technicians respond to calls involving pipe bursts or a roof leaks. With our offices opened 24/7/365, we are able to dispatch crews to homes within 45 minutes of receiving an emergency call.
This allows us to respond to multiple disasters with zero notice, whether a rain storm floods your crawlspace or a toilet overflow gets waste-water everywhere.
We Have You Covered When it Comes to Water Damage
Homeowner's insurance usually covers water damage services, as long as you take into account preventative maintenance. Without proper care for your homes roofing and drainage system, your insurance policy may not cover the damage.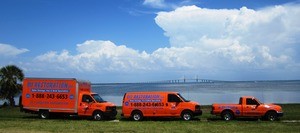 Most insurance companies include a negligence clause that states homeowners must keep up with their plumbing repairs and other household chores to receive full benefits their claim.
Our Cicero water damage specialists will help you understand your insurance policy, including filing your claim for you. We always put the customer first, so we will make sure you get everything you deserve from your insurance policy.
Our Cicero water damage group will make your home even better than it was before. Call 911 Restoration Central New York when you need a fresh start after a flood.